Not long ago, the attention of the world turned to Hamilton Island, thanks to Tourism Queensland's ingenious competition for 'the best job in the world' – being paid to live on a tropical island paradise and blog about it.
Now, a lavender garden in southern China is trying to emulate this unqualified marketing success by holding a competition to recruit two Lavender Angels.
According to the China Daily, the Panlongxia lavender gardens are the largest in South China, covering more than 200,000 square metres. Located in the city of Zhaoqing in Guangdong province, the gardens are looking for two people who want to be 'gardeners':
"We will recruit two ladies to be our special gardeners," said Liu Liang, a director of Panlongxia ecology tourism region. "Their titles are 'lavender angels'."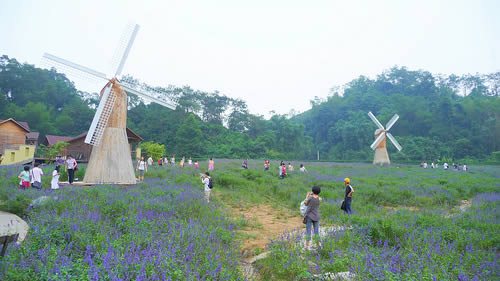 The lavender garden at Panlongxia in Zhaoqing by denn (License)
Note: The personal twist here for me is that I used to live in Zhaoqing. Pollution aside, it is a very beautiful city, with some lovely parks and gardens.
Duties Of The Lavender Angels
According to the article, the successful candidates will guide visitors around the gardens and be involved in promotional activities. This will include making promotional videos.
I'd suggest that there'll also be a fair bit of standing around smiling in hotels and shopping centres, trying to get people to visit the gardens. I've done exactly this, in the same city, for schools after students (rather than gardens after visitors).
Remuneration
In remuneration for their duties, each gardener will earn 'as much as' 20,000 yuan per week and will be given accommodation in a 5 star hotel.
Zhaoqing has some nice hotels – I'd think the best are probably closer to 4 stars than 5, but I'm sure the winners will be fairly comfortable.
I'm a little less confident about the salary. 20,000 yuan per week is a huge amount in China. Some of the locals will earn less than 200 yuan per week. The starting rate for foreign English teachers is probably less than 1,500 yuan per week (I'd guess 5,000 or 6,000 per month). Even the top earning foreign teachers are probably on less than 4,000 yuan per week (ie 16,000 per month).
However, it's not the amount that worries me – there's plenty of money in China. It's the 'as much as'. Anyone who has worked as a foreign teacher in China knows that what you're promised and what you're given is often very different. Even one of Chinese people asked about the competition in the article has doubts:
But I wonder if it is a trick to attract people's attention to the lavender garden. I think the event will be more convincing if the organizer signs a contract with contestants and winners in advance.
So the winners be warned!
Attractive Angels Only
I'd be quite happy to win this competition. Unfortunately, I can't because I'm a man. The competition is only open to women. Actually, the competition is only open to women between 18 and 25 and taller than 163 cm. I'm sure there's an unwritten 'attractive' in there as well. Oh wait, it's not so unwritten:
"The winners should look good, be familiar with environmental protection and be passionate about ecology and lavender," Zeng said.
You see this sort of thing quite often in China. It's still quite acceptable there to employ women on the basis of their looks. No one cries about women being treated as sex objects – in fact I've heard women defend this sort of thing. Everyone values beauty in China.
Second Best Job In The World?
The Lavender Angels competition obviously didn't work as an international marketing tool.
A search of Google for 'Panlongxia Zhaoqing lavender garden competition' only finds a few stories on the competition – the China Daily story above and a couple of other copies of the same story.
Of course the original article was from May and the competition is now over. I had to dig a little harder to find out who actually won the competition: He Zhifei, 22 from Guangdong and Chen Huiyuan, 20 yrs from Henan.
Although the original article mentions that international women were encouraged to apply, I think it's safe to say that very few international women even heard about it.
Who knows, it may have been a roaring success in China. However, remembering that they were trying to emulate Hamilton Island's international success, the Panlongxia competition has to go down as an international marketing failure.
Final Thoughts
He Zhifei and Chen Huiyuan will have now started in their roles as Lavender Angels and I wish them success in the role.
I'd like to find out how they are going. I wouldn't be surprised if they have a blog about their experience, but it would be in Chinese, which I'm unable to read (I really have to get my act together and learn chinese!).
Still I'm glad I heard about the Lavender Girls competition – it's brightened my day somewhat.