This is a photo I took when I first lived in China in 2002, in the southern province of Guangdong: a countdown timer on the traffic lights: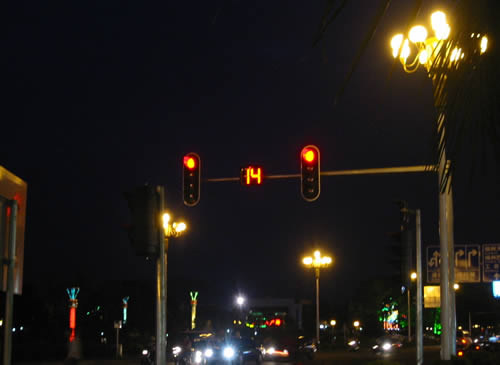 I was really taken with the countdown display on the traffic lights, showing how many seconds were left before the lights went green. How simple, yet elegant. Why hadn't I seen this before?
It lets you know exactly how long you have to wait. No sitting there on tenterhooks, waiting for that green light – you can relax a little, which should improve your concentration when you're actually driving. No being caught out by the light suddenly changing to green – you know exactly when it's going to happen.
There's an added benefit: everyone knows how much time they have and, this being China, you get to see all sorts of interesting behavior: people rearranging their load, sending a text message and goodness knows what else.
Of course, this only works with timed traffic lights. Here in Brisbane, the lights have had sensors for 15 years or so: the time a red light shows is variable, so this wouldn't work. Still, I lived in Denver a year or so before I moved to China and they had a lot of timed traffic lights but no display.
I thought this quite ingenious of the Chinese. Have you seen any other ingenious 'inventions' in China?