As mentioned recently, I'm going to publish some of my old photos of China. Here are a couple of photos of an 'international' hotel in China – the Dynasty Hotel in Zhaoqing – taken back in 2002. Hotels such as this provide a great refuge for expats living in China, especially those living in small to medium cities.
First What Is An 'International' Hotel?
I use the term international quite loosely. Some such hotels have 'International' in their title. Some do not. These hotels are typically 3.5 to 4 stars: nice hotels, but not quite as good (or international) as they think they are.
Foreigners may stay here when they come to town, but most of the clientele are Chinese, the management are Chinese and the way the hotel works is Chinese. There just may be the odd surprise in store for the foreigners.
Note: I'm talking about 'international' hotels outside of the largest Chinese cities. You'll find true international hotels in Beijing and Shanghai.
The Expat's Refuge
Any foreigner who's lived in a small to medium sized Chinese city will know of a hotel that fits this mould – a place where you can ease out of everyday life in China and settle down in comfortable surroundings with a nice cold beer or an almost decent coffee along with some pseudo Western food.
Time in such establishments is part of the survival kit, helping maintain sanity when the absolute foreignness of everything around you becomes too much. I needed that regularly when I first started living in China, but it was more an occasional treat by the end. For many expats, this need doesn't diminish.
The Dynasty Hotel 2002
When I first started living in China in 2002, my refuge was the Dynasty Hotel. There were other 'international' hotels in Zhoaqing, but this was one of the best (and the school I taught English at also happened to own it).
As you can see from the following photo, the inside of an 'international' hotel can be impressive: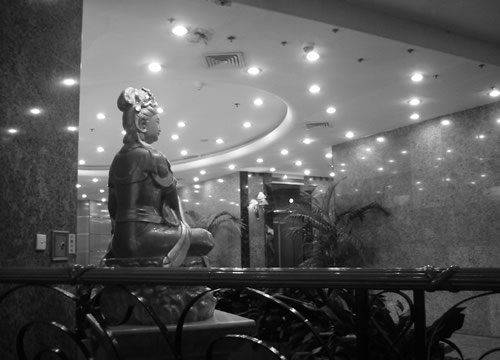 A statue of Buddha, polished granite walls, impressive lighting effects, curved roof, palm trees etc. Looks lovely!
However, scratch the surface and it's still very much Chinese. Look at the ceiling – you can see a lot of things that look like fire sprinklers. I'm not sure exactly what they are, but they're not fire sprinklers. Also note the controls on the wall, which are more obtrusive than they need to be.
This is typical in China. Wiring and pipes are normally on the outside, rather than being built in. Even when they build a lovely looking hotel, you'll find things tacked on that seem out of place.
Still, complaints aside, the overall feeling of this hotel is one of luxury, especially when compared to the city outside it's doors.
The second shot is of the pool area, taken from inside the downstairs lounge: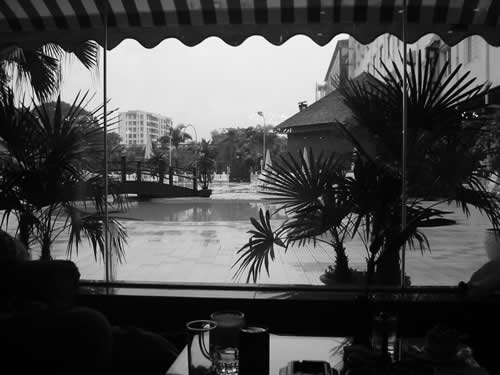 The pool area is great, including an outside bar, several pools of varying depth and the little bridge you can see.
The lounge itself can seem like heaven. On a hot day (and it get's very hot and sticky in Zhaoqing) you can sit in air-conditioned comfort, drinking ice cold beer (or freshly squeezed fruit juice, or semi decent coffee) and snacking on peanuts or dried peas. You can even order a pizza if you want. As I said, heaven!
Of course this is relative – for someone stepping off a plane from a Western nation, such a hotel wouldn't seem impressive in anyway. But after you've been living in China for a while, well your viewpoint will change!
Needless to say, although we loved exploring the real China and eating at local restaurants, etc, this hotel became a refuge for me and the other expats I worked with.
If you're an expat living in China, have you experienced something similar? What's your local refuge?